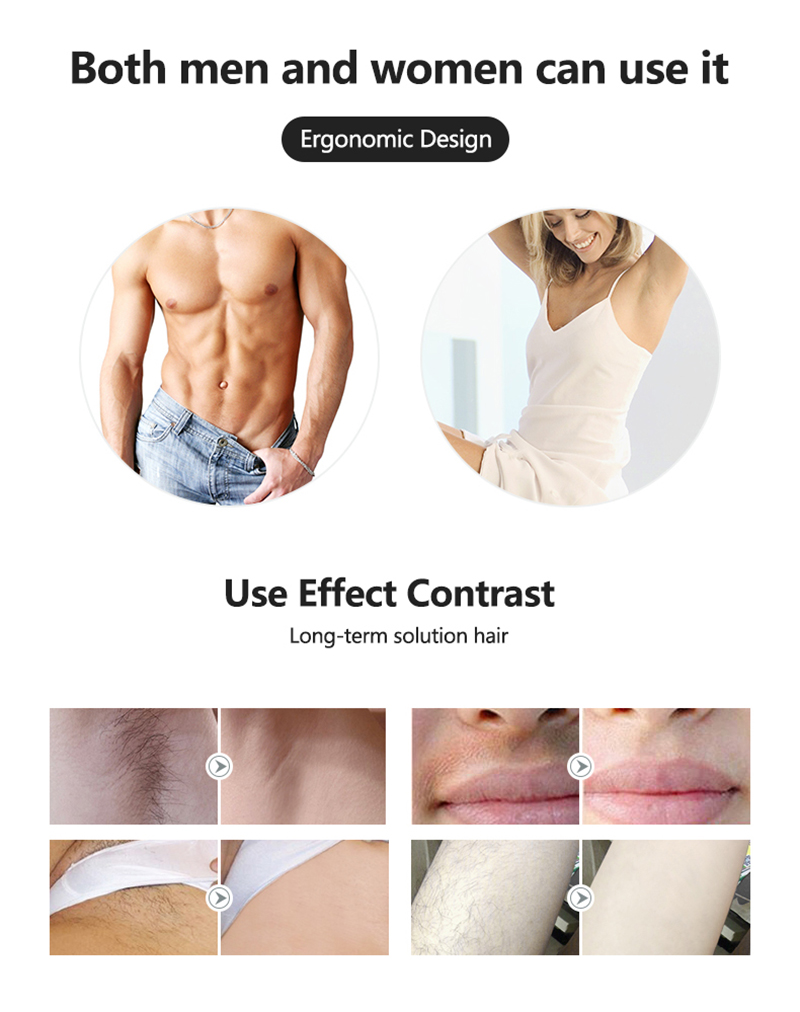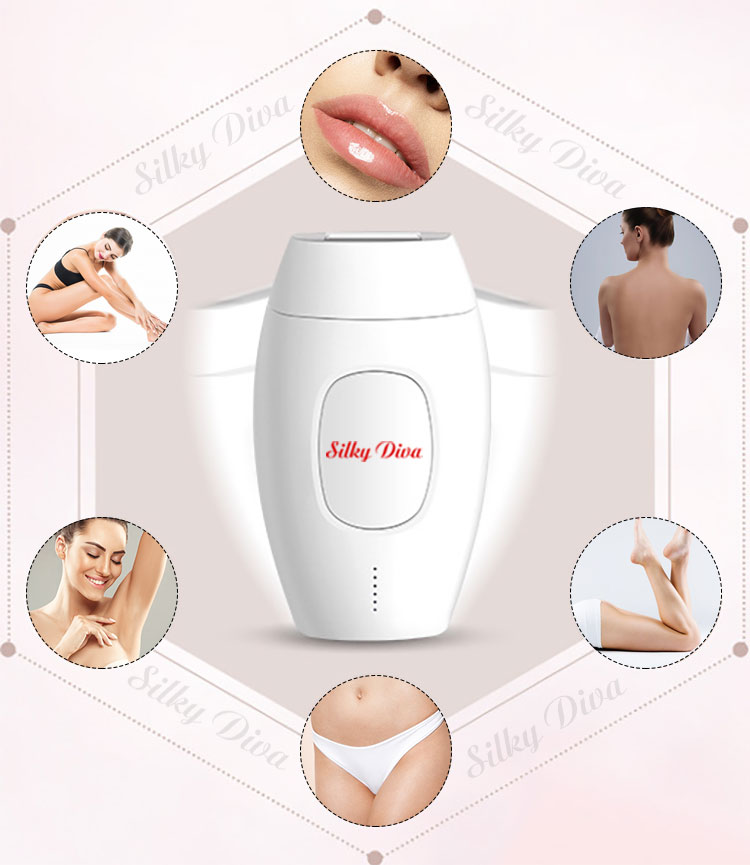 Before you buy
Check your skin and hair color against the chart below.
This device does not work on very dark skin. Also, it does not work on red hair or grey hair.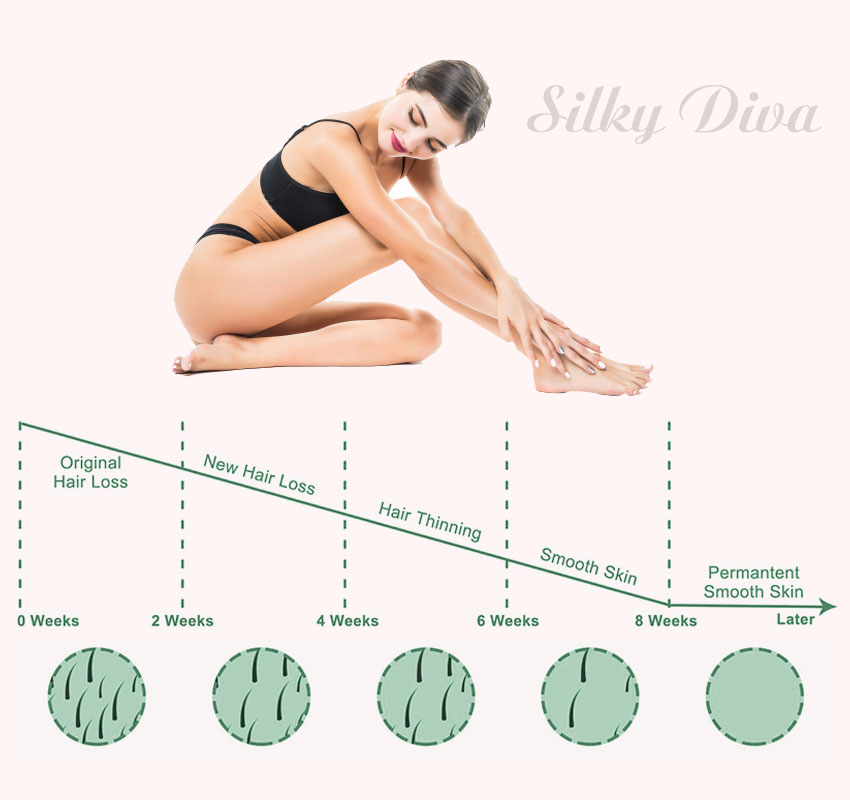 Important Information
Test if your skin is suitable before use:
Before using the machine for the first time, please test a small part of your skin to confirm that there is no reaction. If there is any reaction, do not use.
What is the energy level to use at the beginning?
On your first use, always start with the lower gear 1. Slowly with each subsequent use raise the level slightly as long as you can tolerate it. Do not use level 4 or 5 at the beginning to avoid being burnt.
How to use the Silky Diva Hair Removal device correctly?
The Silky Diva Hair Removal device will only flash when it is at 90 degrees in contact with the skin. Do not flash against the air, always wear anti-glare glasses.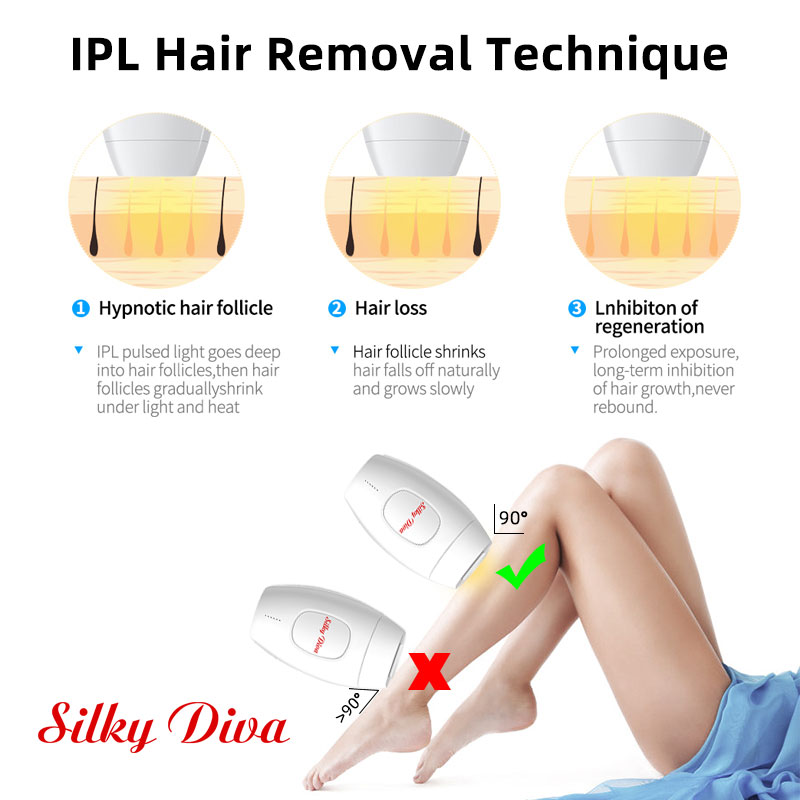 Correct Usage:
1- shave the area where you want to remove the hair with a razor
2- Plugin the device
3- wear dark antiglare glasses
4- Adjust the energy level (start with level 1 at the first use)
5- Make sure you place the device to touch your skin at right angle (90 degrees) before pressing the flash button. Do not press the flash button against the air. If the device is not at 90 degrees, it will not work correctly to remove the hair.
6- After you finish, use a good skin moisturizer or your favorite body lotion, to keep your skin hydrated.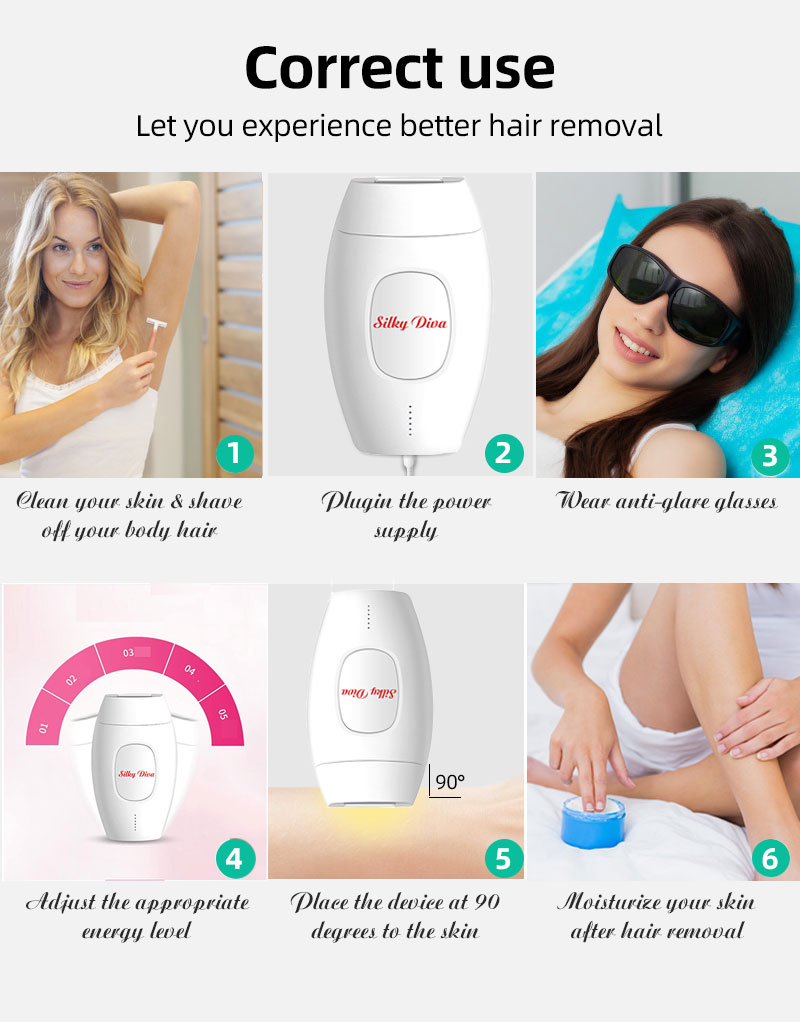 Notes:
1. Use twice per week in the beginning for the first 4 weeks
2. When the hair slows down, use it once a week for the second month.
3. In the third month, use once every 2 weeks.
4. When the hair stops growing or only some fine hair grows, use at least 1 time per month to maintain.
5. The use frequency may differ according to the different individual skin sensitivity and hair thickness and color. Check the chart for skin and hair color, and also depends on how sensitive your skin is.
6. Change operation times according to the actual hair density. The operation interval varies with different individual situations.
7. In 90% of the time, the hair disappears within 3 months. However, very thin or light hair may take longer and may not completely disappear.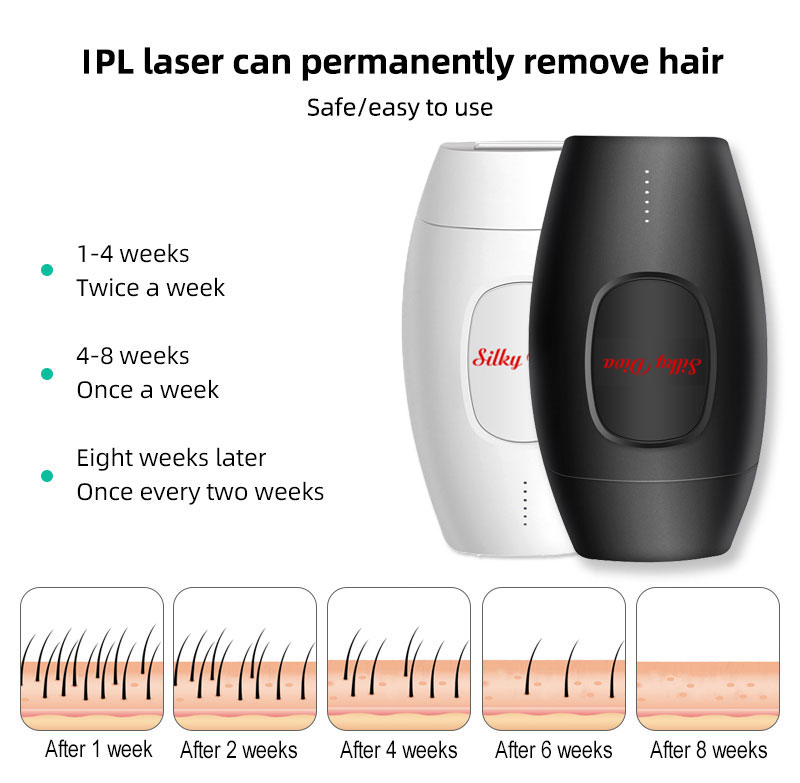 Overview
After turning off, the fan will continue to rotate for 30 seconds to completely dissipate heat to the tablet.
Specification
Use: Bikini, Face, Body, Underarm
Material: ABS, Plastic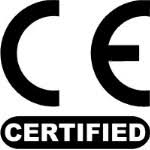 Product Description:
Voltage: AC100-240v, 50 / 60Hz
Power: 36 watts
Wavelength: 580-1200nm
Weight:  519 gs
Colors: Black, White
Light intensity: five levels
Long Life: Quartz Lamp for hair removal with longer using life and durable use.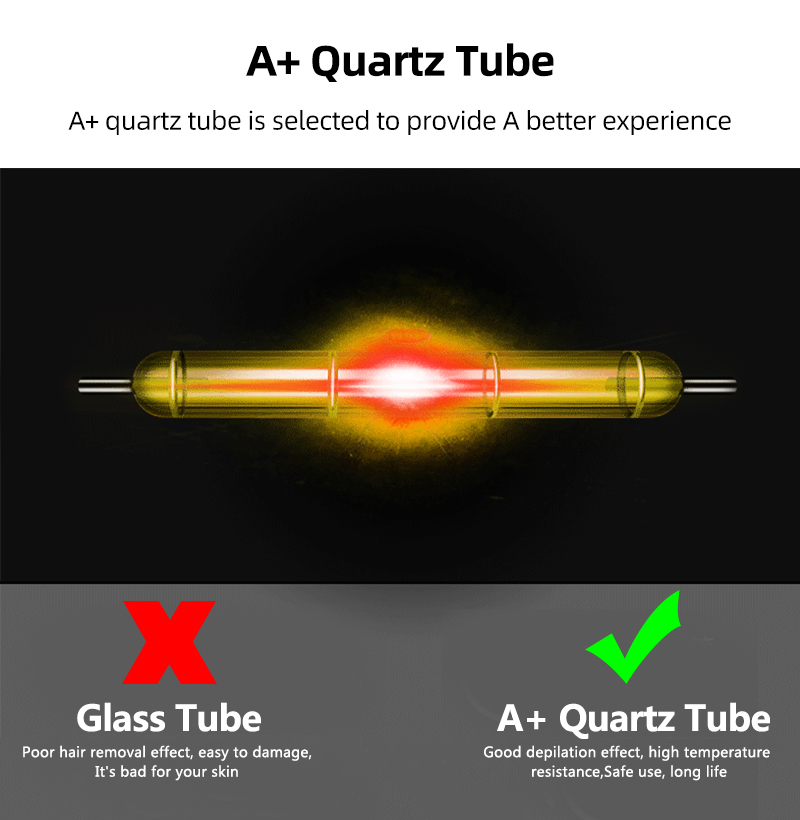 Zero Consumables, No Medium, No consumables.
Skin identification device: yes
Two Operation Modes: Automatic and manual modes for the different skin areas. Use automatic mode for large areas like legs. Use manual for sensitive and small areas like upper lip, underarms, and bikini area.
Painless: 5 Adjustable optimal energy level according to the skin tolerance. Providing gentle treatment painlessly and easily, without hurting the skin.
Suitable for: underarms, legs, arms, bikini area, face, chin, chest, back
Suitable for: women or men
 More Flash Times: 600000 Flashes for longer use time.
User Manual Language: English
Retail box language: English
Hair removal area: 3-5J / cm2 spot size not too large nor too small for any curve, high efficiency and fast speed that just takes several minutes to remove the overlapping region hair which is difficult for traditional hair removal method.
Permanent: IPL works inside pores, destroys hair papilla, thus achieves permanent hair removal.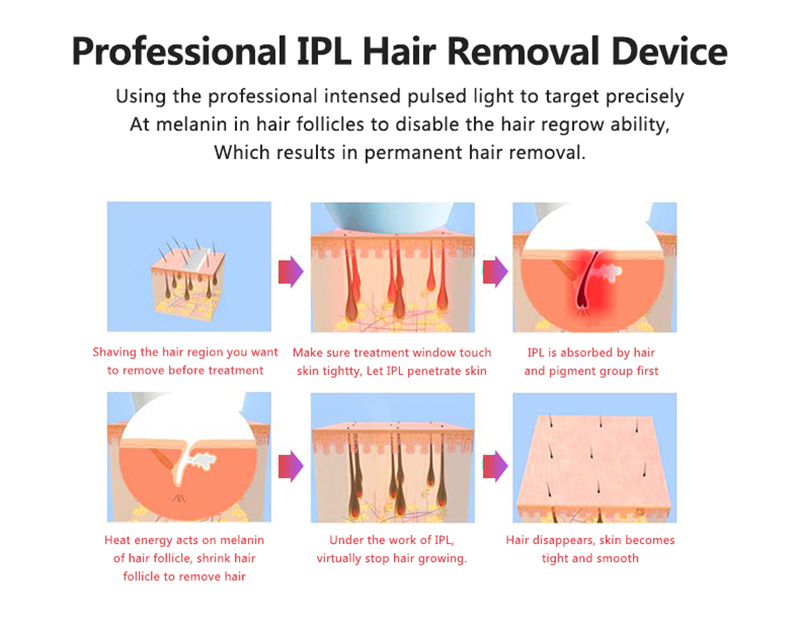 Package Content:
User Manual* 1
Machine* 1
Packing box* 1
Power plug* 1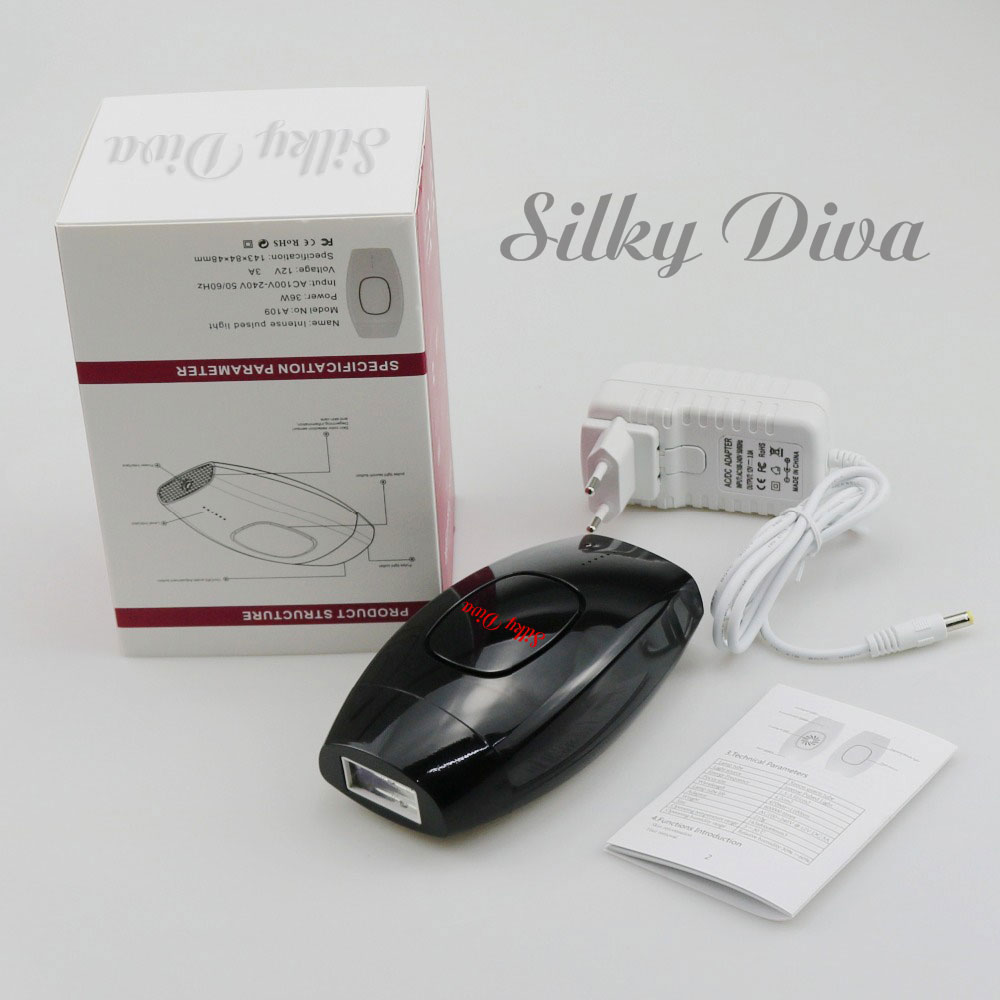 Important Information: 
Material: Plastic
Package Size:  280 x 370 x 50 mm