Noticeable results in less than 3 months
Silky Diva offers you the IPL 3000 PRO for permanent hair reduction and removal. With its ergonomic and compact, lightweight design, it is suitable for home use. The IPL 3000 PRO provides a long-term, permanent solution for hair removal, and can be applied to various areas of your body (arms, legs, underarms, lip line, bikini line, as well as back).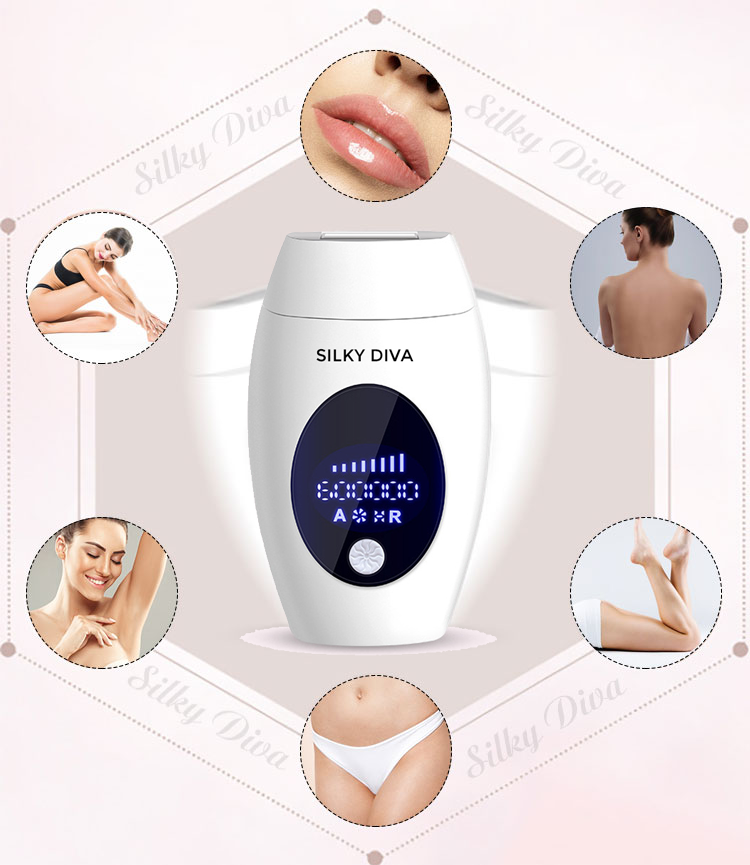 Safe & Painless:
The IPL 3000 PRO includes five adjustable optimal energy levels according to your skin tone, providing gentle treatment painlessly and easily, without hurting your skin.
Super Long Life
The IPL Pro offers 600,000 pulse flashes with a built in automatic skin sensor that will not flash unless placed directly on your skin. IPL hair removal system is also equipped with a liquid crystal display for you to clearly see the remaining number of flashes remaining as well as the power and work mode selected.
Accurate & Effective:
The IPL 3000 PRO emits strong pulse light waves to remove the hair follicle from its root. You can also adjust the light intensity to any of its five levels depending on your skin tone. It works inside pores, destroys hair papilla, and thus achieves permanent hair removal.
Fast Speed:
The IPL 3000 PRO offers an automatic pulse mode, allowing you to glide the device over your skin to effectively remove unwanted hair.
High Efficiency:
The IPL 3000 PRO is equipped with an A+ Quartz tube which is resistant to high temperatures, can be used safely, ensures better depilatory effects, and has a longer life than the traditional Glass tube.
Product Details: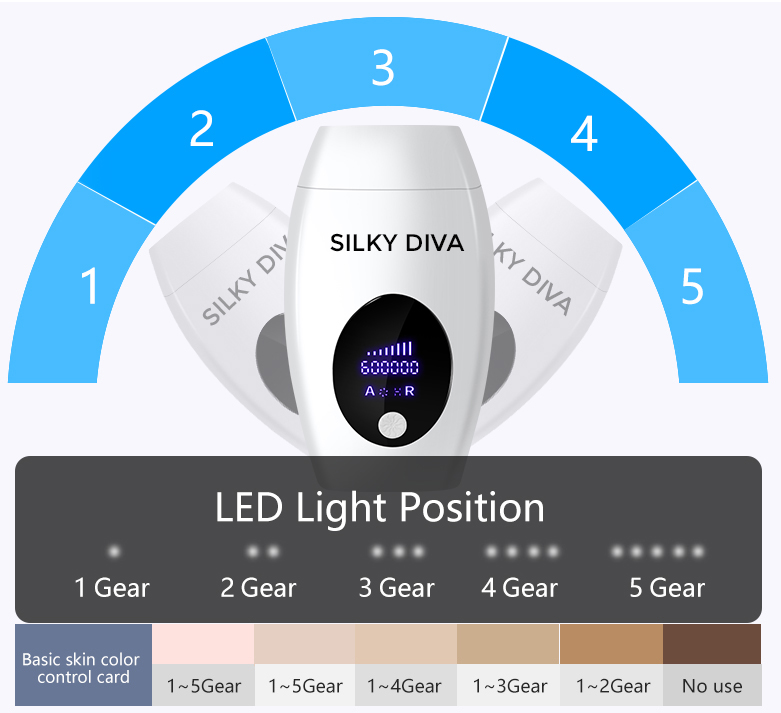 5 Power Level Modes
Two Operation Modes: Automatic and manual mode
Skin Detection Ability
600000 Flashes
LCD Display
A+ Quartz tube
Lightweight
CE Certified
FCC Certified
RoHS Certified
FAQs:
Q: Does the IPL 3000 PRO suit all hair and skin types?
A: It does not work on dark skin. Also, it does not work on red hair or grey hair.
Q: Which operation mode should you use?
A: Use the automatic mode for large areas like legs. Use the manual mode for sensitive and small areas like upper lip, underarms, and bikini area.
Q: What is the energy level to use at the beginning?
A: On your first use, always start with the lowest level. Slowly, with each subsequent use raise the level slightly as long as you can tolerate it. Do not use level 4 or 5 at the beginning to avoid being burnt.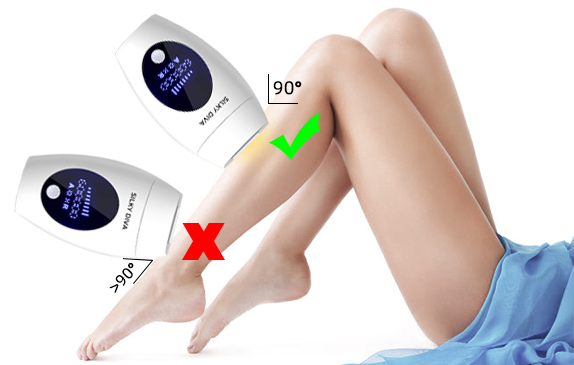 Q: How do I use the IPL 3000 PRO correctly?
A: The device will only flash when it is at 90 degrees in contact with the skin.
Q: How many times should you use the IPL 3000 PRO?
A: You can use it up to it twice per week at the beginning for the first 4 weeks, then, once a week for the second month, and once every 2 weeks in the third month. When hair stops growing, or only some fine hairs grow, use it at least once per month to maintain the results.
Q: Which intensity should you start with?
For your comfort, when using the device for the first time, be sure to start with the lowest intensity (gear 1). Then, with each use, you can gradually raise the intensity as long as you can still tolerate it.
Q: Can men use the IPL 3000 Pro on the face?
A: No, men should not use it on their face due to the density of facial hair which is different than other hair on the body.
Q: Why should I shave?
A: Shaving allows the IPL treatment to be more effective because the laser works on the hair inside the follicle, under the surface of the skin.
Do not wax or pluck the treated area between treatments because both remove hair from the follicle. The hair needs to be inside the follicle IPL 3000 pro to be most effective.
Q: Can I use the IPL 3000 Pro on tattoos?
A: No, do not use on any part of your skin that are darker than your usual skin tone such as tattoos and dark brown or black spots like large freckles, birthmarks or moles. The darker skin may absorb too much laser light, which can injure the skin.
Q: Can my teenage daughter use the IPL 3000 Pro?
A: No, children under the age of 18 should not use the IPL 3000 Pro.
Q: Are you certified?
A: Yes, we are CE Certified, FCC Certified, and RoHS Certified.