Silky Smile
Silky Smile's ultimate teeth whitening kit will remove stains and whiten your teeth in less than 1 week.
Silky Smile is the optimal teeth whitening kit that comes with everything you need to remove stains and get your teeth glistening white again! This fast-acting formula can give you a whiter smile in less than 1 week.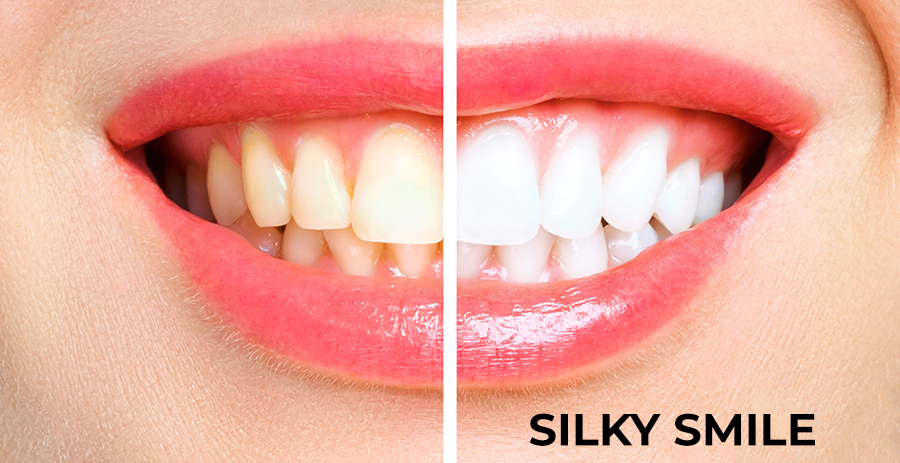 Effective Stains Removal
Silky Smile is a premium quality kit is superior to whitening strips, pens, and toothpaste. Use for as little as ten minutes per day to see effective stain removal caused by tea, coffee, wine, cigarettes, and more. The universal shape of the mouth tray is comfortable to wear and suitable for sensitive teeth too. The unique teeth whitening gel is produced for ultimate effectiveness in stain removal and teeth whitening.
Included in your kit
Included in the Silky Smile kit are 4 syringes, each pre-filled with 3ml of advanced teeth whitening gel formula, 2 universal, moldable mouth trays and 1 cold light lamp LED accelerator device (same light used at professional whitening centers). Our kit is easy to assemble, use and clean.
Advanced Features
Advanced teeth whitening gel formula is designed to combat color molecules on your teeth to eliminate difficult stains.
The powerful LED accelerator light speeds up the whitening process.
Moldable trays to fit your teeth for optimal results.
Noticeable results in just 10 minutes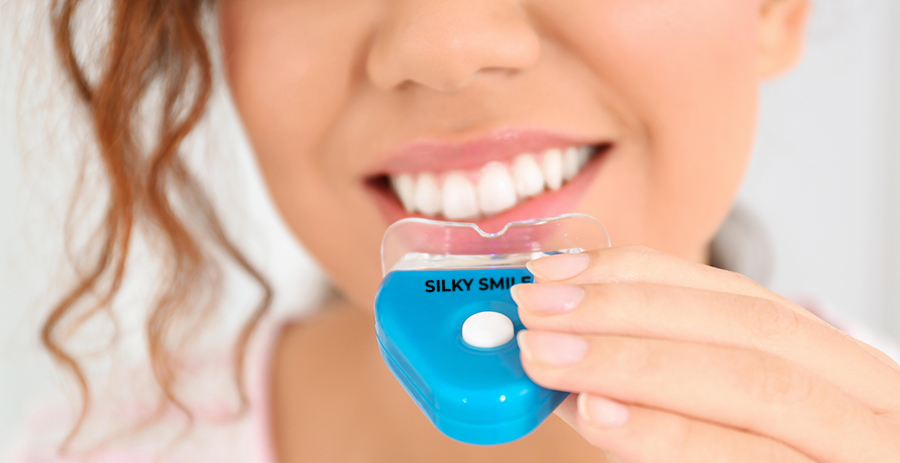 Technology
The LED lamp device is an innovative system that uses light technology to quickly bleach your teeth. Light processing is the latest in dental bleaching technology. The advanced light technology system is designed to be extremely easy to use at home. Our specially formulated gel quickly eliminates stains from the surface of your teeth as well as deep stains.
The amazing thing about this product is the ability to remove spots such as coffee, tea, smoking, red wine, juice, cola, and aging stains.
FAQ
Q: How does the Silky Smile Work?
A: It is all about the formula and the active bleaching agent. The powerful LED lamp acts as a catalyst to speed up the treatment. The active agent removes superficial stains and deeper discoloration by altering their chemical structure.
Q: How often can I use the teeth whitening kit?
A:  You can use it up to 2 or 3 times per day for faster results. For an enhanced whitening effect, use it for 30 minutes, once a day for 5 days.
Q: How many shades of whitening can you achieve?
A: It is possible to get up to 8 shades whiter within 10 days. The results may vary depending on the state of stains and color of your teeth when you started using the device.
Q: How should you store the whitening gel?
A: Keep the gel in a cool, dark place. If needed, keep it in the refrigerator.
Q: How can you maintain the results?
A: After achieving the results you desire, use Silky Smile once a week, or whenever needed to maintain your results.
Q: Is Silky Smile Safe?
A: Yes, it is safe and approved by dentists. In order to let our customers have the best results, Silky Smile also comes with an advanced integrated technology LED light to expedite teeth whitening treatments.
Q: Are LED lights harmful?
A: LED lights are completely safe to use and do not contain ultraviolet rays .